Top 3 reasons why you should hire an attorney after a Utah car accident: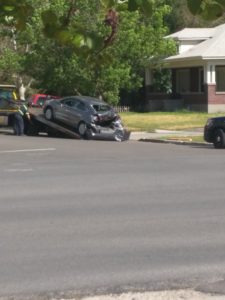 If you are in a Provo Car Accident, hiring a personal injury will save you time and money and provide for better results.
1. Medical Documentation/Injury Validation.
The insurance carriers do not want you to hire a personal injury attorney immediately after the collision because that personal injury attorney will insure that you receive adequate and appropriate medical care to validate your physical injuries.
Treating a serious head injury with a chiropractor is not adequate medical care to document your injuries. You are hurting yourself and, of a far more secondary importance, your legal case for fair and adequate compensation. A good personal injury attorney will catch this error and get you to the correct medical provider.
Another example is the podiatrist. Thinking a podiatrist foot doctor is going to be able to validate your knee injury is anther scenario of inadequate medical care and poor documentation of your physical injuries to demonstrate to the insurance adjuster your need for compensation.
Podiatrists and chiropractic physicians are great doctors and they are just as important as your neurosurgeon. Each has their place and a good Utah personal injury attorney will ensure that your medical care validates your injuries so that the insurance adjuster can pay fair and adequate compensation.
Too many times people are hurt in Utah car accidents and don't get appropriate and timely medical care. As a result, their compensation and their health suffers. Good personal injury attorneys help guide injured people through the insurance claims process.
2. Insurance Adjusters are Highly Trained in Medicine and Negotiations.
Unless you handle bodily injury car accident insurance claims on a regular basis, the non- medicine trained person will simply not have the knowledge to understand their claim or their physical injuries.
An experienced personal injury attorney will have handled hundreds of car accident cases involving the spine, knees and fractures. This knowledge will be to your benefit to ensure adequate and fair compensation for your injuries.
The trained eye of an experienced personal injury attorney will be able to know that a fracture involving a articulating joint needs more compensation, then a fully healed straight fracture. Same goes for understanding that herniated discs deserve more compensation than fully resolved muscle strains. Having an attorney who knows the value of your physical injuries will only benefit you.
3. Insurance Law Pitfalls.
Car accident personal injury claims can take some time and hiring a personal injury attorney early will benefit your car accident case.
Utah insurance law is filled with complicated, intricate areas where even lawyers who don't regularly practice in Utah car accidents will get tripped up.
Common Statute of Limitation Errors.
For example, simple statute of limitations can get tolled due to infancy, insanity or just not knowing about the injury until later on (discovery rule). Normally a bodily injury statute of limitations is 4 years for a Utah car accident. But, what about when the Utah government social worker hits you while in a state owned car, while on the job? The statute changes. Another scenario is what is the statute of limitations when a Federal post office worker collides with you as a pedestrian? Again a different set of laws, a different procedure.
Underinsured Coverage Mistakes.
Common mistakes people commit when trying to settle their case without an attorney is not understanding how underinsured motorist coverage is triggered. In Utah, you can't ask your own insurance company to pay underinsured motorist coverage until the at-fault driver's insurance has paid out their entire bodily injury policy limits. And there may be multiple at-fault drivers which would impact the situation even more.
Not Understanding Utah Personal Injury Protection Benefits.
Another mistake is not understanding how to stack Utah Personal Injury Protection ("PIP") benefits, or understanding which PIP carrier is primary in a Utah car accident. Primary PIP coverage differs depending whether pedestrians or bicyclists are involved and changes when out of state insurance policies are covering some of the cars.
Navigating your own Utah car accident claim is like doing your own dental work. May work, may not. But it is not worth the risk of not hiring a personal injury attorney.
Conclusion.
Pressing your own personal injury claim can be legally dangerous and you will generally receive more adequate and fair compensation when hiring an attorney right from the beginning.
Call (801) 373-6345 for a free Utah car accident consultation. Jake Gunter. www.jacobgunter.com